Current affairs on 24 October 2016
Number of people read this Article: 1017
Have you read this article?
Be the first to rate it.
Write a Review
Companies Current Affairs
HCL announced to buy Butler America Aerospace
In order to strengthening its position in the aerospace and defence engineering services space HCL Technologies has notified that it will acquire Butler America Aerospace for USD 85 million in cash.
Butler America Aerospace had revenues of USD 85.4 million for the year ended Dec 31, 2015 and has over 900 engineers & seven design centres in the US.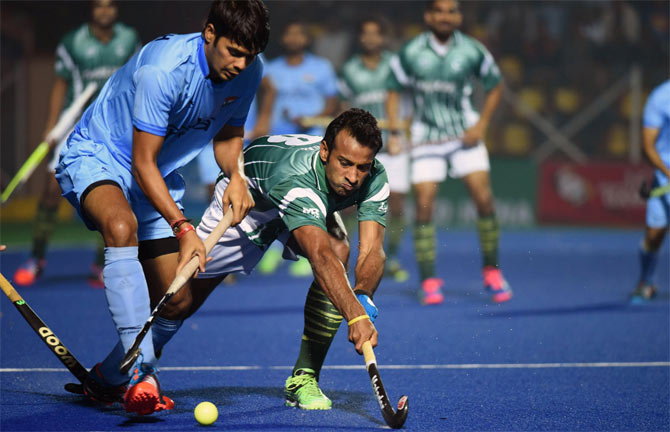 DIAL Raises $522m in 10yr Bonds
DIAL is a joint venture between GMR Airports & Germany's Fraport has raised $522 million through the issue of high-yield 10-year bonds.
High-yield bonds refer to instruments that offer a higher return to compensate for the risk.
Economy Current Affairs
Protein Enriched Rice Variety Developed by Indira Gandhi Krishi Vishwavidyalay
Indira Gandhi Krishi Vishwavidyalay (IGKV) has developed a protein-enriched rice variety that will play a crucial role in fighting protein deficiencies.
The new developed rice variety has over 10% protein content, which is 3% more than what is found in any popular variety & has30 PPM zinc content.
Prime Minister Modi will also launch "Urja Ganga"
Prime Minister Narendra Modi in his visit to his Lok Sabha constituency Varanasi, will launch a number of ambitious projects including a 1500-km-long gas pipeline and doubling of railway tracks on a busy route.
Dual rail engine that runs on both electricity as well as diesel. The special engine has been manufactured in Diesel Locomotives Works, Varanasi.
Prime Minister Modi will also launch "Urja Ganga", the gas pipeline project which promises to provide piped cooking gas to residents of Varanasi within two years and, in another year thereafter, cater to millions of people in states like Bihar, Jharkhand, West Bengal and Odisha.
He will also release a stamp dedicated to the ancient temple town, which is believed to be among the oldest surviving ones in the world and will lay the foundation stone for widening of a road passing through the city's crowded Cantonment area.
Rudy Inaugurates Kaushal Mahotasava
Government on 22 October 2016 inaugurated 'Kaushal Mahotasava' in Varanasi along with "skillup mobile app".
He flagged off placement drive for youths skilled under skill India programme through which this new app will help the job seekers to search suitable work for themselves & will also help the employer to identify skilled workers.
General Current Affairs
Rajasthan High Court order dissolution of the State Other Backward Classes (OBC) Commission.
After hearing a writ petition moved by Samata Andolan, challenging the OBC Commission's establishment through an executive order, Rajasthan court in October 2016 notified that the commission was constituted without the State Assembly enacting any legislation for it.
The Division Bench of the court directed the state government to appoint a new commission backed by a statute by 15 January 2017. It also directed that no salary or allowance of the members of this commission would be disbursed hereafter.
The order was passed by a division bench of court comprising Justice KS Jhaveri and Justice Mahendra Maheshwari.
The first woman to conquer Mount Everest passed away
The first woman to conquer Mount Everest, Japanese climber Junko Tabei, has died aged 77 after diagnosed with cancer of the abdomen four years ago, and died in hospital in the city of Saitama.
Tabei conquered Everest in May 1975, aged 35, before climbing all of the world's seven highest peaks by 1992.
Scientists have discovered the oldest known planet
As per the findings were published in The Astrophysical Journal Letters, Scientists have discovered the oldest known planet-forming disk - a 45 million-year-old ring of gas and dust that orbits around a young star, from which planets can form as the material collides and aggregates.
This particular red dwarf is a candidate member of the Carina stellar association, which would make it around 45 million years old. It's the oldest red dwarf system with a disk we've seen in one of these associations
TRAI has imposed three thousand crore rupees penalty on Bharti Airtel, Vodafone and Idea
Telecom regulator TRAI has suggested imposing three thousand crore rupees penalty on Bharti Airtel, Vodafone and Idea for allegedly denying inter-connectivity to newcomer Reliance Jio.
The recommendation came on complaint by Reliance Jio that over 75 per cent of calls on its network are failing as incumbents were not giving sufficient points of interconnect that would help complete calls.
International Current Affairs
Milan Honors Dalai Lama as Citizen
Italy in Milan has conferred upon the Tibetan leader and the Nobel Peace Prize laureate Dalai Lama an honorary citizenship angering China.
China accuses the Dalai Lama of leading a campaign to split Tibet from the rest of China.
Germany Passes New Spy Law
The New legislation passed is part of a range of measures meant to improve oversight of espionage.
Thus, German lawmakers have approved a bill that allows the country's foreign intelligence agency to spy on European Union institutions & fellow EU member states. In this the panel of independent judges will have to be informed when the BND spy agency eavesdrops on Germany's allies.
New York Named a Day on Waris Ahluwalia
In on fo the the rare honour, New York City declared Oct 19, 2016 as 'Waris Ahluwalia Day'. in which New York City Mayor Bill de Blasio presented Mr. Ahluwalia a proclamation that declared 19th October 2016 in the city of New York as 'Waris Ahluwalia Day'.
The day was proclaimed for his recognition of the Sikh-American actor & designer for his powerful" message of countering ignorance & advocating for religious understanding & tolerance.
Sports Current Affairs
North Korea won the 2016 FIFA U-17 Women's World Cup
North Korea won the 2016 FIFA U-17 Women's World Cup on 21 October 2016 and became the first team to win the tournament twice after defeating Japan on penalties in the final of the tournament.
North Korea, who were the champions of the tournament's maiden edition in 2008, .
Spain's Lorena Navarro was awarded the Golden Shoe for scoring eight goals in the tournament.
India won 2016 Kabaddi World Cup
Since last two weeks Kabaddi truly become a global game and India seals victory when they beat Iran 38-29 in the title clash to lift the 2016 Kabaddi World Cup in Ahmedabad on 22 October 2016.
The all out was perhaps the fillip India needed as Ajay Thakur completed his super 10 and sent Meraj Sheykh to the bench. India led 26-21 with nine minutes to go. TransStadia Arena was a cauldron of noise and passion as India played it smart once they had the lead.
India won 2016 Asian Champions Trophy Hockey
On 22 October 2016, India beat defending champions Pakistan 3-2 in a preliminary league match of the 2016 Asian Champions Trophy hockey in Kuantan, Malaysia.
This victory gives India seven points from three outings. India had outplayed Japan 10-2 in their first outing, but were held to a 1-1 draw by South Korea on 22 October 2016
Latest Current Affairs
Current affairs 24th October 2016 contain all the latest news and current events from India and Abroad. User can find the 24th October 2016 affairs article which is a detailed analysis and discussion of news stories that have recently occurred. These news articles are made on the topic Asian Champions Trophy Hockey, India Beat Pakistan, Urja Ganga, Dual rail engine and many other are best study material for the students which are preparing for the competition exams, government exams, Banking exams, IAS exam and many other.
24th October 2016 Current Affairs is available in Question and Answer format which will also help reader to prepare in Objective format. On Time2study, Current affair category contains the articles for each day and these articles have the detailed background of each topic. Current affairs from India and abroad are teller made to the user and thus one can find very interesting, selected and important topic on Current events to read and prepare the notes for exam. Current affairs 24th October 2016 is made on the subjects First woman to conquer Mount Everest, Kabaddi World Cup, Oldest known planet, TRAI, Bharti Airtel, Vodafone, Idea, Reliance Jio, Indira Gandhi Krishi Vishwavidyalay, State Other Backward Classes Commission, FIFA U-17 Women's World Cup, HCL, Butler America Aerospace, DIAL, GMR Airports, Germany's Fraport, Kaushal Mahotasava, skillup mobile app, New Spy Law in Germany, Dalai Lama, Waris Ahluwalia Day that have recently occurred.