Current Affairs 18 March 2015
Number of people read this Article: 1514
Have you read this article?
Be the first to rate it.
Write a Review
Companies Current Affairs
Which Indian Company on 17 March 2015 laid the foundation stone for a new 150-million pound automotive innovation centre, planned as the largest research facility of its kind in Europe, to create the next generation of vehicles for the global market?: Tata Group
Explanation: Tata was accompanied by his successor, Cyrus P Mistry, at the launch of the National Automotive Innovation Centre (NAIC), which would be operational at the University of Warwick campus in Coventry by 2017. Thus so far NAIC is planned as the largest automotive research centre of its kind in Europe. NAIC is build in 33,000 square meter complex, which will provide space for 1,000 engineers, designers and academics to work together, from apprentices to senior managers. The new high-tech research facilities at the NAIC will include a design and simulation space creating innovative automotive solutions as well as the world's most adaptable and advanced fully immersive drive-in car simulator. Tata Group Chairman Emeritus Ratan Tata laid the foundation stone.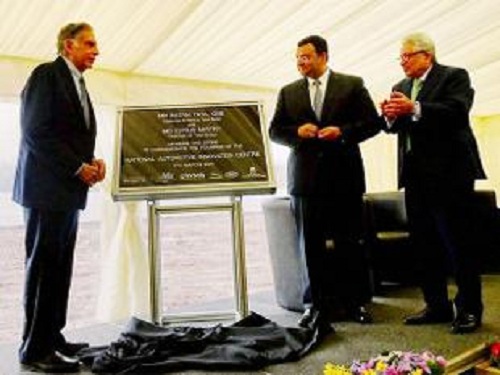 Economy Current Affairs
Indian Railways has announced on 17 March 2015 the increase in platform ticket price from Rs.5, which would be effective from 1 April 2015. What will be new platform ticket price in India from 1 April 2015?: Rs.10
Explanation: The increase of platform ticket from rs. 5 to rs.10 will be effective from 1 April 2015. The decision was made to check the unwanted rush at railway stations during the peak seasons like any festivals or mela. Divisional Railway Managers (DRM) have been empowered to increase the rate of platform ticket beyond Rs 10 to regulate rush at platform during specific requirements. Along with this in 2015-16 budget, it was approved to increase the advance booking from 60 days to 120 days which would also be going to be effective from 1 April 2015.
The iconic Taj Mansingh Hotel in the heart of the national capital will auctioned soon with New Delhi Municipal Council (NDMC) initiating proceedings after getting a go-ahead from the Union Home Ministry for its auctioning. It was so far taken care by Tata-backed Indian Hotels Company Limited (IHCL) on lease since how many years?: 33 Years
Explanation: Taj Mansingh Hotal lease had ended in 2011 and the IHCL was given six temporary extensions to operate the hotel since then on various grounds. Since NDMC was not capable of initiating or conducting the auction process thus, the consultant for the project Ernst and Young has helped in the bid management process had pulled out three months ago. Thus the bidding process, however, is likely to take around 6-8 months after the Council initiates the proceedings. However, two years ago when the NDMC had decided to auction the property, the IHCL had approached the Delhi High Court seeking a stay on the process. But now, the company had not got a stay order from the court to restrain the NDMC from auctioning the hotel.
On 17 March 2015, BSNL Launched Special scheme for the Tamil Nadu customers for what service?: 3G data card and special recharge for mobile pre-paid subscribers
Explanation: Customers with BSNL Broad band connection and fixed monthly charges of more than Rs 600 can avail 3G data card for Rs 800 plus taxes and to avail the offer along with 500 MB free data, customers have to purchase new SIM and data plan for Rs 94 at BSNL customer service centres. Under the special calling facility scheme, prepaid customers can purchase Rs 88 special voucher which allows to make calls across any network and location at a flat 50 paise per minute for a period of 90 days. The scheme is valid till 45 days for a special recharge of Rs 51.
Finance Current Affairs
Stock exchange BSE on 17 March 2015 has announced the launch of which form for individual investors in the securities market?: 'Saral' or simplified account opening form
Explanation: SARAL Account Opening Form (SARAL AOF) to facilitate an easy and simplified account opening process in securities market for Individual investors. The form can be filled by submitting only one documentary proof of address, which can either be correspondence or permanent address and available on BSE website for easy access of investors. Investors who open account through Saral would also have the option to obtain other facilities like Internet trading, margin trading, derivatives trading and use of power of attorney, whenever they require, on furnishing of additional information as per prescribed guidelines.
Foreign direct investment (FDI) in India more than doubled to $4.48 billion in January, the highest inflow in last how many months?: 29 months
Explanation: Government is taking several steps to boost FDI in the country thus in the process have relaxed FDI norms in sectors including insurance, railways and medical devices. In January, the country had received $2.18 billion in FDI. It was in September 2012 that India had attracted FDI that was worth $4.67 billion. During the April-January period of the current fiscal, the foreign inflows have grown by 36 per cent, year-on-year, to $25.52 billion according to DIPP. Among the top 10 sectors, telecom received the maximum FDI of $2.83 billion in the 10-month period, followed by services ($2.64 billion), automobiles ($2.04 billion), computer software and hardware ($1.30 billion) and pharmaceuticals ($1.25 billion).
General Current Affairs
Japan video game maker Nintendo Co Ltd are teaming up with which online gaming company to develop smartphone games featuring the likes of Super Mario, in a bid to retain users increasingly shunning their console and browser-based games?: Online gaming firm DeNA
Explanation: DeNA, grew from a startup launched in 1999 to a major online gaming company and they both Nintendo Co Ltd and DeNA would buy 22 billion yen ($181.4 million) worth of shares in each other as part of a capital and product tie-up. As a result, Nintendo will acquire a 10 percent stake in DeNA while DeNA will acquire a 1.2 percent stake in Nintendo. Both Companies will jointly develop and operate gaming apps, including those with Nintendo`s iconic game characters, for smartphones. They will also launch later this year an online membership service accessible on mobile devices and Nintendo`s existing 3DS portable system and its Wii U console. After this capital alliance, Nintendo will become the second largest shareholder of DeNA after its founder, Tomoko Namba, who has a 13.1 percent stake.
Sports Current Affairs
Ace Indian shuttler Kidambi Srikanth on 15 March 2015 won the Swiss Open Grand Prix Gold Badminton Championship. Where is this Championship was held?: Basel, Switzerland
Explanation: World No. 4 Srikanth won the USD 120,000 Swiss Open after defeating defending champion Viktor Alexson of Denmark, ranked sixth in the world, 21-15 12-21 21-14 in a thrilling 47-minute summit clash. Thus became 1st Indian player to won this title and sets a new benchmark of success for Badminton players
Technology Current Affairs
HDFC Bank on 17 March 2015 announced the launch of mobile app which allows users to instantly transfer money to any contact in their phone book. What is the name of this App?: Chillr
Explanation: HDFC bank partnered with MobMe, a Kochi based technology firm to launch this app. This app Chillr is 1st of its kind application that is linked directly to the customer's bank account, so there is no need to worry about filling up a prepaid wallet and no passwords are stored on the phone and it can be accessed only with M-PIN known to the customer alone. The Bank will charge Rs 3.50 along with service tax for each transaction and user could transfer a maximum amount of Rs 5,000 with 10 transactions per day. Currently the app works on Android and iOS operating systems and will soon be launched for Windows phones.
All new cars sold in the European Union from March 2018 will have to be equipped with which technology in the case of an accident?: eCall technology to contact emergency services
Explanation: The European Parliament`s Internal Market and Consumer Protection Committee voted 26-3 on 17 March 2015 in favour of draft EU rules to mandate eCall technology, which would call the EU-wide 112 emergency number automatically if a car crashed. Separate rules entered into force in June 2014, requiring EU members to ensure they have the infrastructure required to handle eCalls by October 2017.
Latest Current Affairs
Current affairs 18th March 2015 contain all the latest news and current events from India and Abroad. User can find the 18th March 2015 affairs article which is a detailed analysis and discussion of news stories that have recently occurred. These news articles are made on the topic BSE, Saral Account Opening Form, Indian Railways, platform ticket price and many other are best study material for the students which are preparing for the competition exams, government exams, Banking exams, IAS exam and many other.
18th March 2015 Current Affairs is available in Question and Answer format which will also help reader to prepare in Objective format. On Time2study, Current affair category contains the articles for each day and these articles have the detailed background of each topic. Current affairs from India and abroad are teller made to the user and thus one can find very interesting, selected and important topic on Current events to read and prepare the notes for exam. Current affairs 18th March 2015 is made on the subjects Taj Mansingh Hotel, New Delhi Municipal Council, Indian Hotels Company Limited, Indian shuttler Kidambi Srikanth, Swiss Open Grand Prix Gold Badminton Championship, Chillr Mobile App, MobMe, HDFC bank, BSNL, Tata Group, National Automotive Innovation Centre (NAIC), eCall technology to contact emergency services, Nintendo Co Ltd, DeNA, Foreign direct investment, DIPP that have recently occurred.