The Nurture's Nest Play Studio
Number of people read this Article: 3591
Have you read this article?
Be the first to rate it.
Write a Review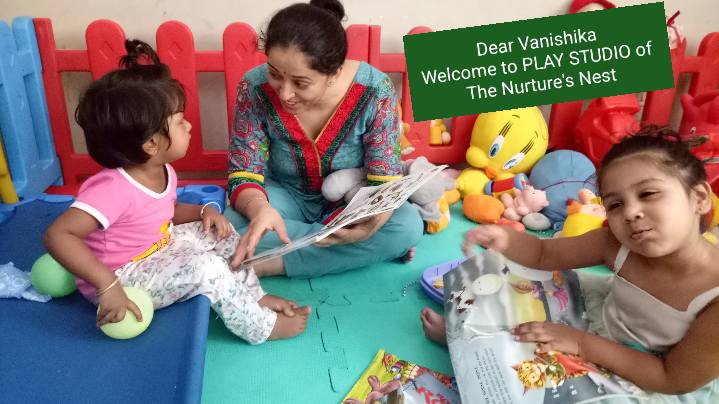 ABOUT US
We are the working parent's dream come true
We Understand your Child as You Do……
We understand that Pre School is your child's first step in to the world of education. Being Parents ourselves, we can understand how parents are intensely occupied with one of the most difficult decision of their lives: leaving their most precious & pious 'Possession' in the surroundings of school for the first time. Your possession is equally precious to us & that's why we followed School House concept and that's how 'The Nurture's Nest', came into origin & I firmly believe that our association of parents as partners will take The Nurture's Nest to the new heights 'The Nurtures World School' in near future.
What is The Nurture's Nest?
The Nurture's Nest is the Holistic Growth Planner and a Pre School, nurturing the natural instinct of your precious child from cultural to overall personality development and skill finding. Along with prescribed academics we nurture them as future ready Global kids. We are committed & progressive to provide children: safe and fun learning environment where children are empowered with Life skills, Confidence & Compassion required to become self leaders of future and write success stories of tomorrow. We firmly believe that 'Self Leadership is the future' and we aim our structure and activities around this vision.
Vision: Inspiring young minds through Continuous Positive Progression based on 'ACADEMICS & EDU LIFE SKILLS 360' to produce Global Citizens who believe in Self Leadership.
Mission: To transform young minds into Global Citizen through Scientific aided technology and Value based Academic learning program inspired by 5 C's concept- Curiosity, Connection, Cognition, Consolidation & Competition.
Values: We Value RELATIONSHIPS - The better we understand the more we learn.
What inspired us the most is PASSION to become a catalyst of qualitative growth in the youth through the medium of education
We believe in the dimensions of BALANCE i.e. scientific aided Academics & Value based education
We pursue EXCELLENCE not only for Academic perfection but also work FOR 360 GROWTH OF KIDS.
Founder Director Diary
Educating the young mind is both fascinating and exciting fosters a high self esteem in each and every child. The foundations of self esteem are laid out early in life. The more we respect, trust, appreciate and love a child, the more support they feel and the higher their self esteem and self achievement will be. Our children are special and they are our future. I love occasions when our children, staff and parents join together in recognition and celebration of an important festivals, no matter what faith they themselves adhere to. The ability to live together is harmony as we have in The Nurture's Nest and is something to be proud of and a wonderful example to set our children and rest of the world. The diversity of the school environment echoes this oneness visible in our students, staff, parents, culture, themes, activities and educational programs
Your child deserves the best, so I leave this privilege to you to decide for your child. However, the moment your child joins The Nurture's Nest, I would be happy to assist your precious possession to a journey which is enjoyable, enriching and rewarding and full of curiosity and fun learning. I look forward to welcoming you to The Nurture's Nest Family. We are centrally located in IP Colony. We appreciate your interest and hope you let us play a part in your child's future.
Shabana Arora
Founder Director Principal
The School Environment
We ensure that the children in our care feel happy, secure and enthusiastic about coming to school and we make it happen every day through continuous progressive play and learn approach. The school is purposefully located in a house. This homely & cheerful environment makes the transition from being at home with a care giver to the school system a bit easier. The Nurture's Nest's warm touching and caring environment forms the foundation upon which your child's academic and social growth is first cultivated. We believe that preschool should work beyond academic pressure and allow learning through fun based scientific aided program which not only ensures the holistic development of a child but also imbibe value based education. At Nurture's Nest learners tend to explore possibilities and life skills to do well at school, make friends and deal more confidently and calmly with outside world. To nurture the inspiring minds, children need to feel comfortable and secure, therefore we put premium on hygiene, cleanliness and safety.
Our Principal's
We believe Pre-Primary education is all about stimulating the learner's senses. Our infrastructure and our unique teaching methodology allows us to help children to develop their senses with interactive puzzles, group exercises and object manipulation supplemented with standard checks and basic tests to ensure progress.
Creating a sense of inquisitiveness in your child by encouraging them to explore, ask questions and draw logical conclusions.
Introduction of very basic mathematical exercises in a simple and tangible manner with gradual progression. The focus is on problem solving.
Comprehension is an integral part of our pre-primary education and serves best to develop language skills. This also develops a habit to read and speak within your child.
A variety of indoor and outdoor games helps foster development of motor skills, stamina, balance, rhythm, strength, agility and concentration.
Our teacher to student ratio is a very respectable 2:20.
Field trips to Malls, fire stations, aquariums etc. add to your child's real world learning experience.
The curriculum at the Preschool level is an amalgamation of five pre-school philosophies to provide an integrated learning experience for children in their formative years. The curriculum is derived from the following philosophies:
1. Maria Montessori – Focus on exploration and learning using five senses.
2. Reggio Emilia – Parental Involvement and documentation
3. Waldorf – Holistic Development – Development of mind, body and soul
4. Bank-street – Experiential interactive learning
5. Play-way – Experiential and fun learning
6. Scientifically Designed AC class rooms
7. Safe and secure environment
8. Field Trips to parks, Mall, Aquarium, Doll house etc
9. Variety of Indoor & Outdoors games
10. International Standard Creative worksheets
11. Scientific aided nurturing concept through 5 C's (Curiosity, connection, Cognition, Consolidation & Competition)
We are progressive to produce Global Citizens
ADMISSIONS
Thank you for inquiring about 'The Nurture's Nest' Preschool.
We offer scientific aided curricula for 18 Months to 5 year old. We offer a curriculum that is continually updated to employ the most effective scientific aided teaching techniques and early childhood learning environment. Our registration procedure consists of filling few simple forms and its submission. We suggest you to plan your visit along with your child coz Fun underscore everything that we do in 'The Nurture's Nest' and there is a good dose of play time each day.
Playschool Admission Criteria
Playschool Admission is granted on the basis of the following criteria
a) First come first serve
b) The child should be of 18 months + years

Pre School Admission Process
Pre School Admission process in The Nurture's Nest begins with Parent Orientation program with child and completes on the receipt of admission fees and making the entry into the Record Register.
In the record, the groups are allocated based on age of the child, and the age eligibility criteria and date of admission.

Early Learning Program with the unique concept of EDU DRAMA
ELP & EDU DRAMA is a unique concept of storytelling grouped into four key stages of continuous positive progression to create an environment of enquiry & observation, wonder & curiosity, imagination and creativity, to encourage young minds exploration, response healthy growth from secure parents to teachers partnership.
| | | | |
| --- | --- | --- | --- |
| S.No | Stage | Group | Age |
| 1. | Key Stage 1 | Nurture's Play Nest | 18 Months |
| 2. | Key Stage 2 | Nurture's Play Studio | 2 and half -3 |
| 3. | Progressive Key Stage 3 | Nurture's Kinder 1 | 3 and half- 4 |
| 4. | Progressive Key Stage 4 | Nurture's Kinder 2 | 4 and half- 5 |
Latest Current Affairs
Current affairs 03rd August 2017 contain all the latest news and current events from India and Abroad. User can find the 03rd August 2017 affairs article which is a detailed analysis and discussion of news stories that have recently occurred. These news articles are made on the topic Play school, play studio, Faridabad, nurture's nest and many other are best study material for the students which are preparing for the competition exams, government exams, Banking exams, IAS exam and many other.
03rd August 2017 Current Affairs is available in Question and Answer format which will also help reader to prepare in Objective format. On Time2study, Current affair category contains the articles for each day and these articles have the detailed background of each topic. Current affairs from India and abroad are teller made to the user and thus one can find very interesting, selected and important topic on Current events to read and prepare the notes for exam. Current affairs 03rd August 2017 is made on the subjects best play way that have recently occurred.