Jharkhand Board class 10 exam 2017 date sheet
Number of people read this Article: 1821
Have you read this article?
Be the first to rate it.
Write a Review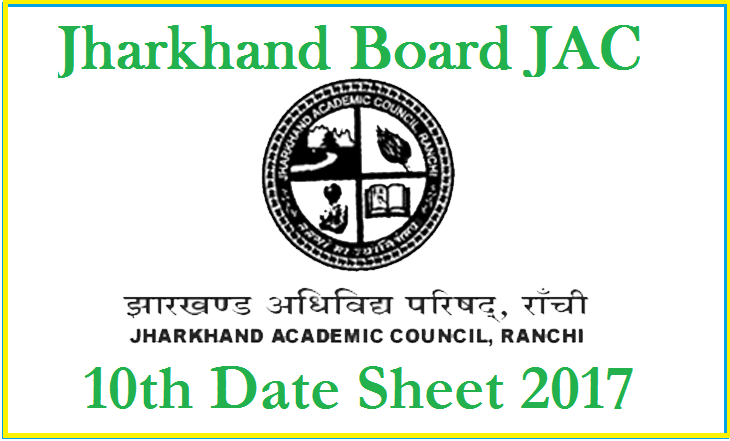 The Jharkhand Academic Council (JAC) has declared the tentative dates for Jharkhand 10th Board Exam 2017. As per the JAC, the Jharkhand Board 10th Exam 2017 will begin from 16th February 2016 till 2 March 2017.
JAC 10th Date sheet 2017
However the Jharkhand Board Matric time table 2017 for Class 10 students will be announced later but these tentative dates will help students start their preparations for the exam. In 2016, the JAC Matric Board Exam began on 16th February 2016 with Hindi (Course A & B) Paper and continued until 1st March 2016 when the final exam of Social Science was conducted.
JAC Matric Exam 2017 – Time Slots
JAC Board might continue with the same time slots for the examination as well for 3 hours and 15 minutes beginning from 9:45 AM until 1PM. The first 15 minutes will be allotted to the students to read the question paper and familiarize themselves with the questions.
About Jharkhand Academic Council
Jharkhand Academic Council (JAC) is the primary school level education board of the Jharkhand State. The JAC conducts the annual board exams i.e. Matric Exam for Class 10 students and Intermediate Exam for Class 12 students. In addition to this, the board is also responsible for holding exams for Sanskrit Education and Madrasa Education.
Latest Current Affairs
Current affairs 13th December 2016 contain all the latest news and current events from India and Abroad. User can find the 13th December 2016 affairs article which is a detailed analysis and discussion of news stories that have recently occurred. These news articles are made on the topic Jharkhand Board class 10 Board exam 2017 date sheet, JAC class 10 Board exam 2017, JAC, JAC Board class 10 exam Time table and many other are best study material for the students which are preparing for the competition exams, government exams, Banking exams, IAS exam and many other.
13th December 2016 Current Affairs is available in Question and Answer format which will also help reader to prepare in Objective format. On Time2study, Current affair category contains the articles for each day and these articles have the detailed background of each topic. Current affairs from India and abroad are teller made to the user and thus one can find very interesting, selected and important topic on Current events to read and prepare the notes for exam. Current affairs 13th December 2016 is made on the subjects Jharkhand Board high school board exam, Jharkhand Metric board exam, Jharkhand Academic Council that have recently occurred.